Intercom System
Back To Our Services
If you have a gate, intercom installation will provide you extra convenience. It will surely increase the level of your security and make your life comfortable and easy. There is no reason to rush out in the driveway in order to open the gate to your visitors. The Intercom System can do that for you and you will just have to press a button in order to see the gate opening and closing. "Gate Repair Palos Verdes Estates" is certainly the contractor you are looking for expert installation and repair services and you can count on the experience of all our technicians.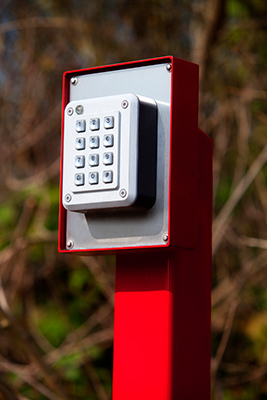 Modern phone enter systems come out in different models. You can choose a simple system for your home and a more complex one for your company. You can have visual or verbal communication with the people standing at the gate or both. You can connect the Intercom System with your phone, so that you can hear when someone is at the door and with the gate opener keypad in order to have easy access to your own property.
Do you need intercom installation? Call us today
The technicians of Gate Repair Palos Verdes Estates specialize in all commercial and residential intercom gate systems. We have a plethora of products to offer you which are manufactured by the best industries in the field. We are definitely experts in all Aiphone, Doorking and Linear intercom products and have the knowhow to repair, install and program them with efficiency. We have trained a lot and have the prudency to follow their recent development. This way, we can offer you exactly what you need and offer the proper services.
We install and certainly program intercom systems in one visit. When you have specific problems and emergencies, you can definitely rely on our fast arrival and our expertise to fix any problem efficaciously. Our gate repair specialists will make sure you'll get what you need, the best intercom possible and ensure you learn how it works. Call us for any intercom service and be certain of our expertise. Send an email today!